Investor's Guide to Raising Money For Your Business
August 15, 2019 @ 5:00 pm

-

6:30 pm
Investor's Guide to Raising Money For Your Business
Investor perspectives on what you need to know when raising capital from angel investors and venture capitalists.
More Info: https://xlr8hi.com/investors-guide-to-raising-money/
About the Workshop
Are you looking to raise money to build or grow your business? Come and learn about the various funding options available to entrepreneurs and the risks and rewards associated with each one. Gain an understanding of how raising outside capital can impact your business ownership and strategy. Bill Melohn will share his insider perspective on what different types of investors look for when evaluating your startup and what can make or break the deal. Increase your odds of getting funded by signing up for our upcoming workshop!
In this class you will discover and come to understand:
• The spectrum of funding options available and their impact on your business
• Understand the perspectives of Venture Capital and Angel Investors
• How to pitch a business, startup or idea to an investor
• How to find the right Investor for your business
About the Instructor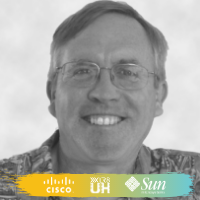 Bill Melohn
Bill has led the design and engineering of Internet Protocols and Services for nearly 30 years. He has worked as an executive in a number of technology companies in Silicon Valley, most recently as VP/Chief Technology Officer for Network Systems at Cisco Systems. Bill currently serves as a technology and strategy advisor for a number of early-stage companies, not for profit groups, and public institutions. Bill is a graduate of Iolani School and the University of Southern California.
Who is this for?
• Founders / Entrepreneurs
• Startup Employees
• Freelancers / Consultants
• Software Developers
• Students / Young Professionals
• Anybody curious about the world of angel investing and venture capital!
Neighbor Islands
Remote attendance options available. Are you interested in joining the class from a neighbor island? Let us know during checkout and we'll follow up with instructions on how to join us!
About XLR8HI®
XLR8HI is Hawaii's Entrepreneurship Center, a member network of builders, dreamers, and doers. More than an organization, we are a community movement that brings together people and opportunities to drive entrepreneurship forward. We provide interactive workshops designed to accelerate your entrepreneurial mindset, while our community events connect you with fellow entrepreneurs and bring you thought-provoking insights from a rotating lineup of innovation experts. Help build Hawaii's entrepreneurship community — join today!
MEMBERSHIP SAVINGS
Become an XLR8HI member today and get this workshop for FREE! All of our membership plans come with free classes, events, and much more! View Plans & Pricing
Agenda
4:45 pm – Networking
5:00 pm – Class
6:00 pm – Q&A Session
6:30 pm – Networking
Where
XLR8HI – Hawaii's Entrepreneurship Center
900 Fort Street Mall, Suite 1888
BONUS
Join Q&A and after class discussion with Bill about the infinite number of cool new ideas, the much smaller number of people committed to turning those ideas into action, the importance of details like IPR, budgets, and how to effectively clone the passion around an idea without diluting your energy or that of your team. The odd idea of "failing fast", being agile about technology, understanding potential competitors, and how to build an organization around consensus and focus on finding the best, most compatible people to work on, fund, and eventually buy your product.
FAQs
Do I have to bring my printed ticket to the event?
Please help us preserve our natural resources and opt for digital check-in upon arrival.
What can I bring into the event?
We recommend you bring a laptop, tablet, or mobile device to all of our classes.
What are my transportation/parking options for getting to and from the event?
We are located on the 18th floor of the Pioneer Plaza in downtown Honolulu. For a complete list of downtown parking options, please refer to this guide. We are unable to validate parking at this time. For affordable rates, we recommend the municipal parking lot in Harbor Court, located across the street from the Pioneer Plaza.
How can I find out more about Investor's Guide to Raising Money For Your Business?
For all other questions, please contact aloha@xlr8hi.com.