Mastering Crowdfunding: Wefunder
September 12, 2019 @ 12:00 pm

-

1:30 pm
Mastering Crowdfunding: Wefunder
Explore the rising trend of equity crowdfunding, the new way to make investor matches.
Website: https://xlr8hi.com/mastering-crowdfunding-wefunder/
About the Workshop
Straight from the source, Wefunder Fundraising Team member Kieran Ryan shares his take on how Wefunder and the equity crowdfunding path can work for you. You'll get a crash course on the platform and how best to leverage its matchmaking potential.
About Wefunder
Wefunder is like "Kickstarter for investing", a crowdfunding service which connects startups with investors online. Wefunder has helped more than 300 startups raise over $103 million of capital from 275,445 investors. Unlike other crowdfunding platforms, investors are not buying a product or donating to an artist. Instead, they are investing in businesses with the hope of earning a return.
From 1933 to 2016, it was illegal to make an investment in a private company unless you were an "accredited investor" (i.e., rich). As a Y Combinator alumni company, Wefunder was instrumental in helping Congress pass the JOBS Act in 2012 which paved the way for unaccredited investors to provide equity for entrepreneurial undertakings. Since May of 2016, thanks to a new law called Regulation Crowdfunding, it became legal for everyone to invest small amounts of money in the startups they believed in.
Today, Wefunder is the largest funding portal by dollars raised, number of companies funded, and number of investors. Because they know what it takes to work with good companies, they have one of the best portfolios in the industry. Founders are busy running their startup, so Wefunder does all the grunt work for you. More than that, as founders themselves (not finance guys or bankers), Wefunder knows exactly what you are going through.
About the Instructor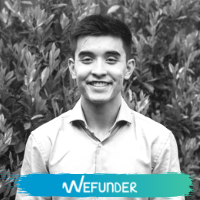 Kieran Ryan
Kieran is part of the Fundraising Team at Wefunder, a crowdfunding service which connects startups with investors online. His main focus is on business development, helping to connect more businesses to investors across the country. Through Wefunder, Kieran has invested in multiple companies, and hopes his investments can help companies make a measurable impact on as many people as possible. Prior to joining Wefunder, Kieran founded his own marketing firm while attending the Haas School of Business at the University of California, Berkeley.
Agenda
11:30 am – Networking
12:00 pm – Workshop
1:00 pm – Q&A
1:30 pm – Networking
Who is this for?
Startup Founders
Small Business Owners
Aspiring Entrepreneurs
Anybody curious about grant funding
Neighbor Islands
Remote attendance options available. Are you interested in joining the class from a neighbor island? Let us know during checkout and we'll follow up with instructions on how to join us!